Pell Grants: Celebrating 40 Years of Educational Access
The student loan program named for the late Rhode Island U.S. Senator Claiborne Pell, was celebrated at a daylong event in New York City on Sept 7, 2012. At the celebration, four Pell Grant alumni were recognized with Pell Grant Legacy Awards, including Lumina Foundation's President and CEO Jamie Merisotis.
The four recipients, representing each of the four decades of the Pell program, are:
1970s - Maura Casey, Pulitzer Prize-winning journalist and former member of the New York Times editorial board
1980s - Jamie Merisotis, president and CEO of the Lumina Foundation, the nation's largest private foundation dedicated to increasing college enrollment and graduation rates
1990s - Vy A. Truong, longtime advocate of underserved populations in Boston and the first Vietnamese-born attorney to have been appointed Assistant District Attorney in Suffolk County, Massachusetts
2000s - Jasmine Johnson, recent graduate of Stephen College who was placed into foster care at the age of two and received multiple scholarships including the Pell Grant, to finance her higher education
The late Senator Pell's grandson Clay spoke and presented the awards.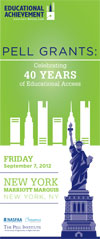 Merisotis' remarks
"Thank you. I'm honored to be here and truly humbled to receive this recognition. Thanks to Dr. Mitchem, Chandra Taylor-Smith, and the entire team at COE and Pell for their continuing leadership in creating educational opportunity for so many individuals who would not otherwise have the chance.
Pell Grants have opened college doors for tens of millions of deserving students, giving them a priceless opportunity and thereby enriching not just their lives, but more importantly, our collective experience as American citizens.
My career has been dedicated to furthering the principles on which Pell rests: equity of opportunity for everyone who has the interest and ability. I'm proud to call myself an advocate for Pell Grants, because I know, from my own experience, and from the shared experiences of millions of others, about the transformative power of Pell to change lives forever.
But now we face an enormous challenge. The changing nature of higher education, combined with budgetary constraints, is taking a toll on the program and its mission. As a result, we read in the press, and we hear frequently from advocates, about how many dollars are dedicated to the Pell program in the federal budget, and about the maximum award for students. These issues are important, of course, and we should do all that we can to address them.
But the story of Pell isn't about what we spend. It's not about budgetary winners, and dollars gained or lost. No, the story isn't about what we spend. It's about what we earn.
And what we earn is individuals who are capable and adaptable, who are committed and active citizens, and who are effective and productive workers. What we earn isn't just about them as individuals, it's about all of us, and our collective social and economic well-being.
Increasing college attainment, which is made possible through Pell Grants, represents one of the nation's most urgent and important priorities. The demand for talent--for people with degrees, certificates and other postsecondary credentials--is growing rapidly, and our inability to meet that demand will come at a terrible cost to all of us. The path forward needs to be about ensuring that an even greater number of people not only gain access to higher education, but succeed in college and make all of those benefits possible.
So that's why Pell Grants are as important to the next 40 years as they have been in the past 40. I'm proud to have been one of those millions who benefitted from the vision of Senator Pell, and I'm committed to the cause of ensuring that the Pell Grant program will serve more students, better, in the next 40. Thank you very much."
Pell Grants: A Passion for Education
A new 90-minute documentary was also screened at the event. "Pell Grants: A Passion for Education," looks at the behind-the-scenes battle in Congress to pass the program.
Related news