Remarks at the National Governors Association Annual Meeting
Remarks by Jamie P. Merisotis, President/CEO, Lumina Foundation
NGA Annual Meeting, Salt Lake City, UT
July 16, 2011
Thank you, and good afternoon, everyone. I'm honored to be with you today to help kick off this important discussion. Clearly, the issue we're addressing in this session is a critical one. Tightening the link between education and economic competitiveness is a task that tops the agenda in nearly every statehouse and governor's office—as it should. My job this afternoon is to help frame that issue and provide some thoughts that can stimulate a fruitful discussion among all of you. I pledge to do that job as quickly as possible … and then to get out of the way and let you share your ideas.
I won't spend a lot of time underscoring the need for state leaders to focus on higher education as a key economic driver. The lingering slowdown has already delivered that message … in boldface, capital letters. It's clear that stagnant college-attainment rates have been a drag on the recovery. Labor experts, economists and employers themselves have been telling us for years that low- and middle-skill jobs are disappearing … that our rapidly changing global economy demands a more highly skilled, better-educated workforce. Everyone here knows that the state that best prepares its workforce is the one best positioned for a quick turnaround and sustained economic success.
A huge part of that effort, of course, is to find effective ways to offer high-quality postsecondary programs more broadly—to better serve the increasingly diverse array of 21st century students. Adult students, whether employed or recently displaced, are a large and vital part of this group, and there are other populations as well. First-generation students, the growing Latino population, other minority and low-income populations, returning veterans … all of these so-called nontraditional students represent a vast, largely untapped resource in your state—a deep well of talent and potential that we simply can't afford to waste.
Focus your efforts on benefiting students, not institutions.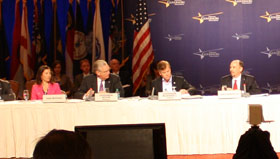 As governors, you can play a key role in developing that talent. That's because, perhaps more than any other person, you are uniquely positioned to lead your state's higher-education reform agenda. Now, I realize that some of you may question that assertion. You may feel that the K-12 arena is more in your sphere … that the legislators in your state are better positioned to tackle the higher-ed agenda. So let me share a few reasons why the governor's office is really the sweet spot for this effort.
First, and perhaps most obviously, you occupy the bully pulpit in your state. More than anyone else, you have the power to direct the state policy apparatus and propose policy, budget, and tax agendas. Your central, visible position also enables you to mobilize and galvanize other political, civic and business leaders.
Second, governors usually appoint the leader of the state budget agency—a person with considerable influence, if not outright control, over higher education budgets.
Third, almost all of you appoint representatives to your state's higher-ed coordinating agency, which in turn, typically chooses the higher education executive officer, or SHEEO, in your state.
Finally, most of you appoint trustees to the governing boards of state-supported colleges and universities. That gives you a singular opportunity—a chance to choose and encourage leaders who seek to benefit students and the state as a whole, not merely the institutions they serve.
So, that's my first important message this afternoon: You, as a governor, can wield tremendous power in the reform effort. For the rest of my time today, I'd like to suggest some practical, concrete ways for you to use that power.
One suggestion is something I just referred to: Focus your efforts on benefiting students, not institutions. Your policy initiatives, your budget priorities, your funding decisions … all of these should aim to increase opportunity and improve outcomes for students. Make moves that broaden students' access to college … Work to enhance the rigor and relevance of their learning … Give them the support they need to stick with it, to complete their programs and earn degrees and certificates … Finally, take steps to ensure that the credentials these students earn are high-quality—that they truly signify workplace-readiness and employability.
Serving students well is the best way to serve your state. Your unrelenting focus on improving student outcomes will necessarily reorient the institutions in your state. And, make no mistake, reorientation of our higher education system is sorely needed if we hope to reclaim and maintain a thriving economy.
In short, we need a postsecondary system that is far more productive—one that can move quickly to generate millions more graduates with high-quality, workplace-ready credentials. And again, as governors, there are specific steps you can take to help foster this focus on productivity. In fact, let me list four steps in particular:
Number One: PERFORMANCE FUNDING—ALSO CALLED OUTCOMES-BASED FUNDING: Targeted Incentives for Colleges and Universities to Graduate More Students with Quality Degrees and Credentials. Don't fund institutions on the basis of mere enrollment. Fund them based on their performance in graduating those students, especially those fast-growing and workforce-critical 21st century student populations.
Two: STUDENT INCENTIVES: Strategic Use of Tuition and Financial Aid to Incentivize Course and Program Completion. Reward students for completing courses and degree or certificate programs through financial aid and campus policies that smooth the path to completion.
Three: NEW MODELS: Lower-Cost, High-Quality Approaches Substituted for Traditional Academic Delivery Whenever Possible to Increase the Number of Ways to Serve Students. Expand and strengthen lower-cost, nontraditional models for delivering courses and programs. Everything from collaborative initiatives across institutions, to accelerated degree programs, to competency-based higher education models like Western Governors University should be on the table.
Finally: BUSINESS EFFICIENCIES: Business practices that produce savings to graduate more students. Invest in institutions that adopt good business practices and control costs through e-procurement, joint purchasing, use of technology and other efforts.
Download
practical guides for boosting productivity »