Shaping a Changed American Higher Education System: Defining Your Role
Jamie P. Merisotis, President & CEO, Lumina Foundation
Morning keynote, American Marketing Association, Austin, Texas
Thank you, and good morning, everyone. It's great to be here in Austin, and I want to thank the AMA for inviting me to speak with you this morning. This talk is a wonderful opportunity for me―and for Lumina Foundation, the organization I lead. That's because, in joining you today, I'm able to talk to a group that has tremendous potential for positive impact in the arena that matters most to me: American higher education.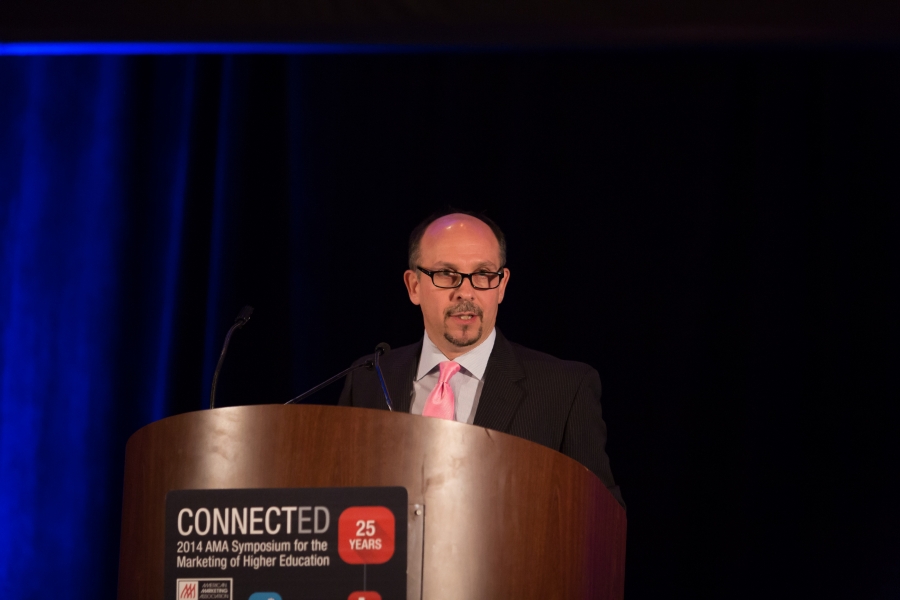 As marketing experts and professional communicators, you are uniquely positioned, not just to tell higher-ed's story, but to help rewrite it. Well, my Lumina colleagues and I firmly believe that such a rewrite is necessary. And we're certainly not alone in that belief. Labor economists … policymakers … employers … enlightened educators and thought leaders of virtually every political stripe—they all agree that significant change is needed. They're all calling for higher ed to be more effective, more inclusive, more relevant, more responsive to the demands of the workplace and to the needs of students and society.
Certainly, changes are already underway in higher ed ― and more change is coming. I want to talk today about those changes … about where American higher education is going, and where it can take all of us as a nation. Most important, in my remarks I want to explore how each one of you can help make those changes happen.
Before we get too far down the path, however, let me step back a bit and provide a little background for those of you who may not be familiar with me or the organization I lead.
Based in Indianapolis, Lumina is a national foundation that plays an unusual role as one of the nation's largest private foundations. We are committed to one cause: enrolling and graduating more students from college—especially low-income students, students of color, first-generation students and adult learners. In fact, we are the largest private foundation in America that focuses exclusively on that mission. And we pursue our mission in a very targeted way. All of our energy and resources are focused on achieving one ambitious but specific goal for college attainment, what we call Goal 2025. The goal is this: By the year 2025, we want 60 percent of Americans to hold a college degree, certificate or other high-quality postsecondary credential.
Right now, as most of you know, the nation's college attainment rate hovers around 40 percent—perhaps 45 percent, when high-value postsecondary certificates are included. My friends, that total just can't get us where we need to be. It represents a significant talent gap ― a gap we must close if we hope to build and maintain a strong economy, a healthy democracy and an equitable society.
Simply put, this nation needs far more college-educated citizens than we are now producing. Experts agree that some measure of postsecondary education will be necessary for anyone who hopes to maintain a middle-class lifestyle in the coming decades. In fact, labor economists predict that, even before this decade ends, roughly two-thirds of all jobs will require some type of college-level learning.
In recent surveys, CEOs and other business leaders say it's increasingly difficult to find workers with the high-level skills the modern workplace demands. I just read an article from the U.S. Chamber of Commerce that cited recent figures showing 4.8 million job openings in this country—at a time when nearly 10 million Americans are still out of work. That same article pointed out that, while 96 percent of chief academic officers say they're somewhat or very confident that their institutions are preparing students for success in the workplace, only 11 percent of business leaders express that same confidence. At the same time, state and federal policymakers are pushing harder than ever for colleges and universities to be more accountable, to demonstrate a clear return on the investment of public funds.
We are producing far too few graduates overall—particularly among the growing populations of underserved students.
Wherever you look, the evidence is clear and compelling: We are producing far too few graduates overall—particularly among the growing populations of underserved students. And far too many of those who do graduate lack the skills, knowledge and capacities that will make them truly successful. In short, there is a real and growing disconnect between what the nation and its citizens desperately need and what the higher-ed system provides.
Again, there are many compelling reasons for meeting this need … for dramatically increasing college attainment. There are reasons tied to economic growth, to democratic and civic progress, to social justice and equity. Certainly, I needn't convince anyone in this room that college-level learning affords enormous benefits—to individuals and to society at large.
The thing is, we will never fully realize those benefits—never even come close ― if we rely solely on the traditional higher education model. Admittedly, the current system has served the nation fairly well for decades, but it's not built for tomorrow … and in many ways not even for today. It lacks the capacity and the flexibility to meet the needs of a vast and infinitely diverse population of students … students who must be equipped to compete in an increasingly complex global society.
No; if we hope to meet those needs and reach that ambitious but vital 60 percent goal, we need new ideas, new approaches. In short, we need a revamped higher-ed system … an integrated, fully linked system for developing human capital … a fully redesigned system that is flexible, affordable, and relentlessly focused on quality.
Put simply, it must be a student-centered system, one that's designed, not to serve institutional traditions, but to meet the needs of students—all types of students. The ultimate aim is to build a learning-based system that offers broad, connected pathways to high-quality credentials for a vast and growing number of Americans, from all walks of life.
Certainly, steps are being taken within higher education to change the business-as-usual approach … to ramp up college attainment and close the talent gap. The rise of competency-based learning and other innovative modes of instruction … the ongoing push to control costs and increase institutional effectiveness and efficiency … increased use of performance-based funding … a growing interest in competency-based programs rather than those tied to the credit hour … efforts to assess and credit the learning that students gain outside the classroom. All of these trends are certainly part of the redesign process. They're steps in the right direction that should be celebrated and emulated.
Still, if viewed objectively, one might see them as mere baby steps … at a time when giant strides are needed. These various efforts ― as promising as they are conceptually—too often fall short in reality. They're pursued, not as interlocking pieces of an organized system that has been purposefully designed to serve students and society, but as discrete responses to the needs of an individual institution or system. In short, they're system-centered or school-centered … they're not student-centered. That's the real key here ― building a student-centered system—one that is designed around their needs and focused on their success.
At Lumina, we've thought a great deal about what such a system might look like and how it might work. What we envision is an overarching, interconnected structure that includes not just traditional college degrees, but all types of postsecondary credentials ― from badges and certifications to apprenticeships and certificate programs, all the way through degree programs and post-doctoral study.
We're convinced that such a system—a learning-based, flexible, stackable credentialing system ― holds tremendous potential. Any such framework would be marked by four basic attributes—four principles that are increasingly important to virtually everyone who has a stake in higher education. Let me list these attributes if I may:
The first is clarity. Credentials would feature transparent, well-defined learning outcomes that are described in a common language so as to be easily transferable and stackable.
Second, quality assurance. This points to rigorously defined learning outcomes ― leading to buy-in from accreditors and wide acceptance of credentials by employers.
Third, inclusion. This means that all learners and all providers are welcome, and that learning can be verified and credited no matter where or how it was obtained.
The final attribute is flexibility. The credentials framework would feature clear and multiple pathways to success, with no dead ends and many on- and off-ramps. And the record of learning would be portable—that is, owned by the student, not by any institution.
Building this type of credentials framework is a complex and ambitious project, to be sure ― one that will take many years, and right now we're admittedly at the early stages. Still, we're making progress. More to the point: We're convinced that the adoption of such a framework ― or at least those principles underlying it—is inevitable. First of all, the benefits it would afford are simply too great and too numerous to be ignored. Second, and it's worth repeating this point even though I made it earlier, the higher-ed landscape is shifting in this direction anyway.
This is an audience of marketing professionals, so let me put it in terms that will be very familiar to all of you: Higher education, which has for many decades been a seller's market, is rapidly becoming a buyer's market. Until very recently, students were limited to the package deal. They bought an entire institution, or at least an entire program. The only real choice they had was which school or which program—and that's where your powers of persuasion came into play. Now, however—with the growing diversity among students, the democratization of college, the unbundling of learning, the proliferation of online programs both within and outside traditional higher education ― students aren't limited to the prix fixe menu. More and more of them are buying their education a la carte.
This is a momentous shift. And make no mistake, it is irreversible. The one-size-fits-all approach to higher education is dead … or at least dying. That sounds ominous, I know. But trust me, it is a very good thing ― and not just for students and for society. It can also be good for you and your institution—if you embrace this inevitable change and help bring it about.
Yes, your job will change, but it certainly won't go away. In fact, as institutions make the inevitable shift to a student-centered system, thoughtful, creative marketing and communications will be needed more than ever.
Think about it. Until recently, it was enough to sell products: your college … its programs and degrees … its reputation … its physical facilities … its faculty. Now, though, think about selling a service. In this new era, your goal isn't to sell more institutional widgets and thus increase enrollment at your college; rather, it is to enable the student ― to actively assist that student—as she chooses and follows her own educational pathway. That kind of expansive, service-oriented thinking can lead to any number of effective marketing approaches.
Now, I don't pretend to be a marketing pro. No one's ever going to mistake me for Don Draper. Still, there's this one episode of Mad Men in which Don said something that might apply here. He said: "People want to be told what to do so badly that they'll listen to anyone." So, armed with that bit of that wisdom, I'll take a risk and suggest a few directions you might consider as you look for new ways to market your institution.
My first suggestion is something I touched on earlier when I mentioned the idea of service-oriented marketing: Talk less about your institution and its tangible, physical "stuff." Instead, talk about the experience … talk about the learning your college offers to its students, and the creative ways it does so. Even though we're still a long way from the type of system that issues credentials for ubiquitous learning, it's clear that we're heading in that direction … because we must. Whatever you can do now to position your institution as an advocate or early adopter of that approach is bound to pay off. So let people know how your institution helps foster that ubiquitous learning experience; highlight all of the ways students can enjoy that experience, both on and off your campus.
Here's another suggestion: Think about your college or university in a way that will resonate with almost any 21st century student ― as a cell phone provider. What do customers hate about cell phone companies? Right: the long-term contract. They don't want to be tied down. They want to be free to find the best coverage, the right price, the services they need. They want mobility. Well, as a student-centered institution, you can send the same kind of "no contract" message that a cell phone provider sends. Show them that your institution offers seamless coverage and mobility … that is has transfer agreements with other institutions … that you actually want to help students learn everything they can—even if they choose to learn it elsewhere. In fact, you could really get creative with this "no contracts" idea. Talk to your president. Maybe there's a way to repackage your offerings in new ways that can benefit students and your college. Particularly if your institution offers competency-based programs, there is an incredible opportunity to do creative pricing that can save students money while helping your institution make more efficient use of its resources.
Finally, as you highlight your college's focus on learning, remember that marketing is all about storytelling. I know that's no revelation to any of you, but it's still worth restating. So think carefully and creatively when choosing the stories you'll tell about learning on your campus. Make sure those stories are authentic and that they're told from the student perspective. Make sure they demonstrate the ways in which your college's learning environment is unique. And be sure they extend beyond the boundaries of your campus … that they show real-world examples of what your students know and can do as a result of their attendance at your institution.
So, there you have my marketing suggestions. No doubt, you will have dozens more—and no doubt far better ― ideas to share, and I very much hope you will share them with everyone during the Q&A session.
Whatever suggestions you may have, however, and whatever approach you take to tout the benefits of your institutions, I hope you'll embrace the effort to increase college access and success. After all, we all know that education—accessible, affordable, high-quality postsecondary education ― is the key to individual and social progress. But when it comes to real progress, we've reached a plateau in this country. Given the system's limitations, we're kind of stuck. And if we're ever going to get unstuck ― if we're ever going to get beyond the plateau and keep climbing as a nation—we need to truly embrace change and work together to make change happen.
You, as campus communicators, can play a pivotal role here. But you need to think big. You need to be leaders in building a coordinated campaign to increase college attainment. And so, I urge you: Use your creative talents to underscore the urgency of Goal 2025 and to call for action to reach that 60 percent goal. Convince your institution's leaders to embrace the effort. Help them emphasize the importance of closing attainment gaps and fostering equity. Use your expertise to rebrand your institution ― accurately and sincerely—as a real agent for positive change.
We all know that the higher ed system is changing … that it must change … to better serve the growing numbers of low-income, first-generation, minority and adult students who represent this nation's future. I thank you for being part of those momentous changes, and for helping to rewrite the higher-education story.
Thank you.