Taking the Gap Year After High School as a Paid Service Year
Taking a break between high school and college is becoming more popular in the United States. The term for this is a gap year. Some 40,000 Americans participated in a gap year in 2013, an increase of almost 20 percent since 2006, according to the American Gap Association. Internet searches on gap years spiked after Malia Obama announced that she had deferred her admission to Harvard University in 2016 in favor of a gap year. I talked recently with Jenna Dell, associate director of higher-ed partnerships at Service Year Alliance, to pull together this overview of important issues related to service year, which I have formatted as a Q&A. Jenna also serves on the Board of the American Gap Association.
What does Service Year Alliance do?
Service Year Alliance is working to advance the big idea that a service year ─ a paid opportunity to develop real-world skills through hands-on service for a year ─ becomes a common expectation and opportunity for all young people in America. Folks searching for a year-long work experience now can be matched with public sector opportunities through the alliance's web-based platform in an array of areas including education, the environment, disaster relief, healthcare, and many more. There are a number of service year programs ─ the best known are AmeriCorps, Peace Corps, Teach for America, Habitat for Humanity, YouthBuild, and City Year ─ but there are hundreds of programs throughout the nation that host service year opportunities and the number is growing. The common denominator among these programs ─ nonprofit, government agencies, and higher education ─ are employers who are looking for diverse talent to help their organizations achieve their missions. The alliance serves as an umbrella organization to make these employment opportunities easily discoverable to those searching for placements.
What are the reasons for doing a gap year?
The most common reasons American students take a gap year are to gain life experiences and experience personal growth (92 percent); to travel, see the world and experience other cultures (85 percent); and to take a break from the traditional academic track (81 percent). These students are known as "gappers."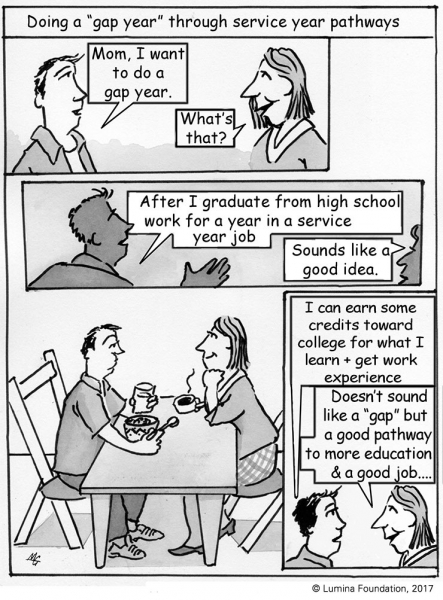 How do service years relate to gap years?
Students are already using service years as their gap year, though they may not be using that terminology. And in fact, students often use a service year as a gap year between college and graduate school or college and career. Another model the alliance is looking to advance is as a bridge between two-year and four-year colleges. It's important to know that not all AmeriCorps programs, and certainly not all service year programs require a college degree.
Additionally, the outcomes of service years and gap years are related mutually reinforcing. For example, 79 percent of AmeriCorps alumni report that their service exposed them to new career options [77 percent for gap years] and 67 percent report the experience gave them an advantage when looking for a job [75 percent for gap years].
Because of these commonalities between service years and gap years, the alliance is working with the American Gap Association to position service years as one option that a "gapper" might consider. This allows students to successfully complete their service years while addressing an unmet societal need such as addressing education inequities, access to affordable housing, or recovering after a natural disaster among many others. When students choose a program such as AmeriCorps, serving becomes a way to make college more affordable, and for some students, to go to college debt free or pay back their student loans. A service-focused gap year can remove the financial barriers to participation while providing the same benefits as other experiences. Gap year and service year organizations alike consider the expenses of the individual and offer scholarships, discounted housing, tuition waivers, and other waivers to make the experience manageable. Service years, however, go further still with a more universal commitment by providing stipends for service year corps members and in some cases, special scholarships at colleges and universities or money to pay back student loans.
Service year opportunities are available in a range of issue areas and they are a great way to explore or follow a given thread of interest. As a result of their service year, students often find that their area of interest has become even stronger, with a greater context in how it all operates, simultaneously improving future employee performance thanks to an improved awareness and sense of purpose. Other times, a service year is a low-risk way to realize that their given interest area may not be the right one for them ─ potentially saving expense with education if not also years of unsatisfactory work. Either way, using a gap year in this way allows young people to learn and discover aspects of themselves that give them more clarity. The outcomes of service years paired with the results of gap years make this an attractive model for both students and parents, especially since the estimated parental income is not related to the impacts gappers experience. Additionally, the longer the gap year, the greater the gains experienced.
Some folks worry that if a student takes a year off, they'll get derailed from attending college, or they'll lose an academic advantage when they do get to college. Are these concerns justified?
There's good evidence that these concerns are unjustified, and the increased attention to gap years is well deserved. Self-reported gap year effects range from increasing students' maturity and self-confidence, to helping students find purpose and career direction, to understanding other cultures and people who may be different than themselves.
The following chart from the American Gap Association details the most significant outcomes reported while on their Gap Year, broken down by color based on Personal, Global Engagement, Career, and College.
The association's research also shows that on average, students perform at higher academic levels than predicted based on their high school academic credentials and that gap years influence positive student conduct. The latter is particularly true for male students. In the United Kingdom and the United States, students who had taken a gap year were more likely to graduate with higher grade-point averages than individuals who went straight to college; this effect was noted as well for gap-year students with lower academic achievement in high school. Also, 90 percent of students who took a gap year returned to college within a year.
Though the benefits of gap years are well documented, some parents still balk at the idea. Some believe that gap years are outside their reach due to financial constraints. Others fear that a gap year will permanently derail their son or daughter from college and career. Underrepresented students and their parents often struggle to see "someone who looks like them" who has successfully taken a gap year and continued down their intended path.
It is true that international gap years may not be the best fit for every student, and there are a number of both domestic and international opportunities that are vetted through the American Gap Association's accreditation process.
Are gap years unique to the United States?
The United States is actually newer to the gap year concept than many other nations. Gap years are much more popular in many other nations such as the United Kingdom, Ghana, Nigeria, Israel, Australia, and New Zealand.
Will more gap years be service years in the future?
When asked, Dell quotes her friend and colleague Ethan Knight who is the founder and executive director of American Gap Association, saying: "Gap years are growing in popularity and share many of the same values, program traits, and outcomes of the Service Year sector. In fact, the most successful gap year experiences typically include three core elements: service/volunteering, career exploration/internships, and paid work. The service year model is one that any gap year ambassador would be proud to advocate for."