The Declining Value of a High School Diploma
The Hamilton Project at the Brookings Institution is producing some of the most interesting and revealing data out there on higher education and jobs. This chart is a real stunner. It shows what has happened to employment prospects for male high school graduates, both in terms of rates and salaries.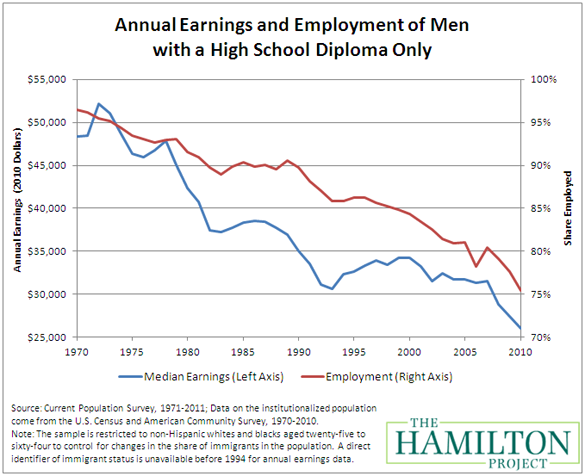 It is not a pretty picture, but it's a very clear one. In 1970, a high school diploma was more than sufficient to assure good employment prospects with a solid middle class income. Of course, this is no longer true. Aside from showing how dire the prospects are for males with just a high school diploma (imagine how bad they are for high school dropouts), the chart show this is the result of a long term trend that has accelerated in recent years.
What is going on here? The short answer is the increasing demand for higher skills across almost all industries and occupations. The chart documents the declining number of low skilled but well paid jobs in manufacturing, construction, natural resources, and other industries. Most of these industries have not gone away, but the skills they require have increased (manufacturing is a good example). To get the skills they need, employers show a clear preference for workers with higher levels of education, and pay an increasing premium to get them. This is happening within occupations—not just across them—which has huge implications for education systems. More on that next time.