The Economist and Lumina Foundation Announce Winner and Finalists of the "Quantified Work Challenge" through InnoCentive
Winner Received $10,000 and Presented His Winning Solution at The Economist's Human Potential Forum 2013
INDIANAPOLIS—The Economist and Lumina Foundation recently came up with the "Quantified Work Challenge" through InnoCentive, giving solvers the opportunity to propose the potential objective inputs, data and potential methods of collecting and reporting information that organizations could use to build a personalized "skills tracker" for individual employees. The Challenge received close to 100 different submissions from 22 countries.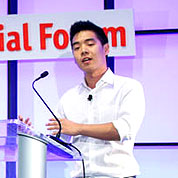 The winner of the latest open innovation Challenge issued with Lumina Foundation and InnoCentive is Paul Duan. He was awarded $10,000 for his idea and InnoCentive submission from The Economist after presenting his winning plan at The Economist's Human Potential Forum 2013.
"Capturing what employees know and are able to do in a digital world will lead to a better connection between education and labor markets and toward integrated national talent development systems," said Jamie Merisotis, president and CEO of Lumina Foundation.
Capturing what employees know and are able to do in a digital world will lead to a better connection between education and labor markets
Merisotis was one of three judges who determined Duan the winner of the Challenge competition live at The Economist's Human Potential Forum. The other two judges were Laszlo Bock, senior vice president of people operations at Google and Thomas Malone, professor of Management at MIT's Sloan School of Management.
Duan's winning project was titled "Method for automatic skills assessment based on social network analysis." The system analyzes online interactions and automatically infers employee skill levels and learning goals. An algorithm extracts topics from each conversation, infers an employee's relative proficiency in each topic, and determines the skills needed most. Originally from France, Duan studied social sciences at Sciences Po Paris and mathematics at UC Berkeley. At 20, he joined Eventbrite as a senior data scientist where he builds machine learning systems for fraud and spam detection and has won several machine learning competitions, including one by Amazon that featured more than 1,700 teams.
The two other finalists that had the opportunity to present their ideas to the three judges live at The Economist's Human Potential Forum were: Peter C. Honebein, Ph.D. and Chris Gray.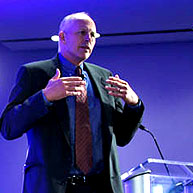 Dr. Honebein is an expert in designing product and service innovations that enable customers to be co-creators of value. Through his company, Customer Performance Group, he helps organizations design, develop, and launch innovations for customers and employees. As an adjunct professor at Indiana University and the University of Nevada, Reno, he helps students learn how to do the same thing in classes related to human performance, instructional design, and customer experience design.
Gray is the Founder and CEO of Track Ahead, LLC, based in Indianapolis. Prior to founding Track Ahead he spent over 20 years in sales and marketing, working for some of the most recognizable companies in their respective industries: Duracell, Gillette, Rand McNally, Amerada Hess and Deflecto. As a National Account Manager in the consumer products industry, he has worked with some of the biggest retailers in the world including Staples, Wal-Mart and Barnes & Noble. In addition to his business achievements, He also worked with his parent's non-profit company, College Resources for 10 years, mentoring and assisting disadvantaged and first-generation students as they prepared to enter college. This passion to help students on the path to college and career led to the formation of Track Ahead, LLC.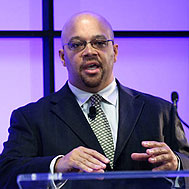 The Economist and Lumina Foundation Challenge gave finalists the opportunity to present innovative ideas to three different industries at the competition. Lumina looks forward to continuing its relationship with Duan, as well as possible working relationships with Honebein and Gray.
"I'm committed to endorsing and supporting all of our finalists through the InnoCentive Challenge," said Juan Kiko Suarez, vice president of innovation and communication at Lumina Foundation. "It could be a win-win for our open innovation process."
InnoCentive is the challenge partner for the Ideas Economy series and Lumina Foundation is the platinum sponsor of the Human Potential Forum.
---
Lumina Foundation is an independent, private foundation committed to increasing the proportion of Americans with degrees, certificates and other high-quality credentials to 60 percent by 2025. Lumina's outcomes-based approach focuses on helping to design and build an equitable, accessible, responsive and accountable higher education system while fostering a national sense of urgency for action to achieve Goal 2025.
With a growing global circulation and a reputation for insightful analysis and perspective on every aspect of world events, The Economist is one of the most widely recognized and well-read current affairs publications. The paper covers politics, business, science and technology, and books and arts, concluding each week with the obituary. Its website offers articles from the past ten years, in addition to web-only content such as blogs, debates and audio/video programs. The Economist is now available to download for reading on Android, iPhone, or iPad devices.
InnoCentive is the global leader in crowdsourcing innovation problems to the world's smartest people who compete to provide ideas and solutions to important business, social, policy, scientific, and technical challenges. Our global network of millions of problem solvers, proven challenge methodology, and cloud-based technology combine to help our clients transform their economics of innovation through rapid solution delivery and the development of sustainable open innovation programs.