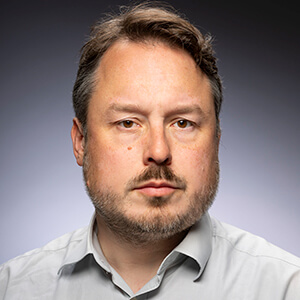 André Callot
Video and Online Event Producer
André Callot is a video and online event producer for Lumina Foundation, an independent, private foundation in Indianapolis that is committed to making opportunities for learning beyond high school available to all. With over fifteen years of experience in video production and project management, André helps grow Lumina's audience engagement strategy through on-demand and online video production.
André joins Lumina from the International Fellowship of Christians and Jews, a humanitarian organization, where he coordinated broadcast and web video production that resulted in a successful global online fundraising campaign. His responsibilities included project management, creating scripts, managing production staff on set, and overseeing approval process with stakeholders in the US, Canada, and Israel. Prior to that, he coordinated multimedia production at the Alzheimer's Association Illinois Chapter in Chicago, managing multiple simultaneous media production projects, as well as conceptualizing, scripting, shooting, and editing video content for the organization's YouTube channel. Early in his career, he worked for JP Morgan Chase's Chicago and New York City locations, where he coordinated audiovisual production teams for events in remote locations and scheduled large-scale multimedia presentations for executive clients with 75,000+ JPMC employees.
In addition to working at Lumina, he is a freelance film producer and also an adjunct professor at the University of New Mexico-Valencia, a small two-year institution with a large Latino/Latina student population located near the Rio Grande Valley and the Manzano mountains. At UNM-Valencia, he teaches undergraduate computer animation, cinematography, film studies, video production, and post-production; serves on the statewide curriculum development committee for Next Generation Media Academy; and coordinates the annual student film festival.
André earned his bachelor of fine arts (film and video production) from New York University and his MFA (studio art) from the University of Chicago. He lives with his family live in Taos, New Mexico.