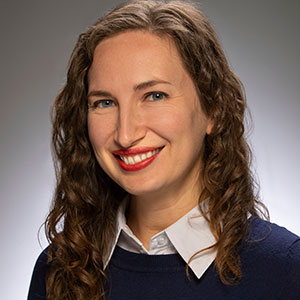 Gretchen Syverud is director of strategic alignment at Lumina Foundation, an independent, private foundation in Indianapolis that is committed to making opportunities for learning beyond high school available to all. In that role, she works closely with the vice president of impact and planning to coordinate cross-team integration and improve overall strategy development and execution.
Syverud joined Lumina in 2016 as the strategy officer for state policy. Prior to that, she served as associate director of policy and research at the New England Board of Higher Education (NEBHE), an interstate compact of the six New England states. She led NEBHE's policy team in tracking and analyzing postsecondary education trends, issues, policies, and best practices to inform institutions, systems, legislators and state leaders. She began her higher education career as an institutional research analyst at Simmons College in Boston.
Syverud earned her bachelor's degree in economics from Jacksonville University and a master's degree in higher education from the University of Pennsylvania.