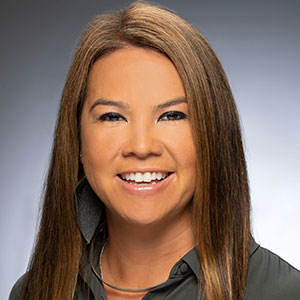 Tracy Chen is director of media strategy for Lumina Foundation, an independent, private foundation in Indianapolis that is committed to making opportunities for learning beyond high school available to all. In that role, she leads Lumina's efforts nationally to broaden news coverage of Lumina's issues.
Chen brings a wealth of experience, doing everything from writing and editing scripts and e-newsletters to overseeing video production and producing award-winning, in-depth segments while managing a team of seven TV and web producers, reporters, and writers. She came to Lumina from Grow INdiana Media Ventures, where she was vice president of broadcast operations and executive producer of the Emmy-winning weekly TV show InsideINdiana Business.
Prior to that, Chen worked for WISH-TV, then the CBS affiliate in Indianapolis, where she produced the station's morning show, and was a writer-producer for CBS-owned and -operated KDKA-TV in Pittsburgh. She also worked as a freelance producer for The Early Show on CBS.
Chen earned her bachelor's degree from Indiana University, where she majored in broadcast journalism with a concentration in Spanish.