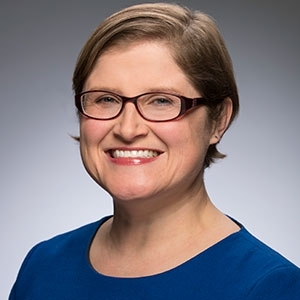 STRATEGY DIRECTOR
Haley Glover
Haley leads Lumina's mobilization strategies, focusing on communities and institutions of higher education, and on work to define and expand student pathways to success. This also includes Lumina's efforts to support incarcerated and re-entering learners, and the Foundation's work with major employers to leverage investments in employee talent development.
Prior to joining Lumina's staff, Haley served as associate commissioner for policy and planning studies at the Indiana Commission for Higher Education. She has also served as the director of fiscal and administrative policy of the Massachusetts Department of Higher Education, and as a fiscal policy analyst for the Massachusetts Executive Office of Administration and Finance. Early in her career, Haley served a researcher for the Center for Economic Competitiveness at the Hudson Institute and as a development associate for the National Dance Institute of New Mexico.
Haley holds a bachelor's degree in secondary education, English and American history from Franklin College in Franklin, Indiana. She earned a Master of Arts in liberal arts from St. John's College Graduate Institute in Santa Fe, New Mexico, and a Master of Public Administration from the Maxwell School of Citizenship and Public Affairs at Syracuse University.
Haley serves as President of the Herron-Morton Place Foundation, on the board the Landmark Farms Foundation, and as an advisory board member of several local and national programs.
Glover lives in Indianapolis with her husband, Eric, and daughter Harper.