Goal 2025 Strategy #2: Mobilize Employers and Communities
Lumina releases a series of new studies on companies investing in employee tuition benefits
Lumina has partnered with Accenture to design a study analyzing the financial impact of employer-sponsored tuition assistance programs. A total of five reports will be released over the coming months.
Webinar discussion on first two studies, June 15, 2016
---
Talent Investments Pay Off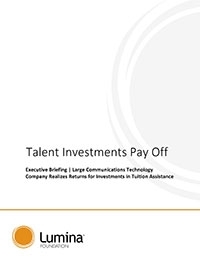 The second study in the series: Talent Investments Pay Off
June 14, 2016
From 2012 to 2014, a large communications technology company (masked as "Large CommTech") provided employees $138M in tuition assistance through its Tuition Assistance Program (TAP). That program resulted in 39.2% ROI ($54.2M net savings), as a result of avoided talent management costs. Both the business and employees benefited as a result of TAP investments.
Continue Reading
Cigna Realizes Return on Investment from Tuition Benefits
April 22, 2016
An analysis of health insurer Cigna's Education Reimbursement Program (ERP) shows every dollar the company puts into the program is returned and generates an additional $1.29 in savings—a 129 percent return on investment. Lumina Foundation, a national foundation focused on increasing postsecondary attainment partnered with Cigna to design the study, which was conducted by Accenture, a leading global professional services company.
Continue Reading
Our Aim
We want to work together with employers, metro areas and regions to encourage broader adoption of Goal 2025. To that end, we seek to create and strengthen the collaborative partnerships needed to increase attainment and more closely align postsecondary education with workforce and civic needs.
Regions, particularly large metropolitan areas, are well suited to these mobilization efforts – and we are working intently in many metro regions, seeking to inform, connect and assist the array of stakeholders in each region who need to take action.
Our Actions
Lumina is working to establish metropolitan regional partnerships based on active engagement and collaboration of political leadership, employers and business, higher education institutions, K-12 education, youth-serving organizations, local foundations and funders, college access networks, and faith-based and other community organizations.
This work is led by Lumina Strategy Director Haley Glover.
LATEST NEWS & EVENTS
By Strategy: Strategy 2 - Mobilize Community Leaders