Advance Federal Policy for Increased Attainment
Our Aim
Federal policy can help or hinder national efforts to increase postsecondary attainment. In particular, federal financial aid programs play a central role in helping low- and middle-income students obtain the financial resources they need to attend college. Equally important is the role played by federal policy in regulating and defining the structure and quality of college degrees and academic programs. Also, the federal government's role in postsecondary workforce development is central, both as a funder and regulator.
At Lumina, it is our hope that federal policy proposals aimed squarely at increasing attainment will be developed and advanced through legislation. We also seek to encourage the Department of Education, Department of Labor, and other federal agencies and departments to support the goal of increased attainment.
Our Actions
By basing permanent staff in Washington, D.C., and by developing and publicizing a set of specific policy priorities, Lumina has established its presence in the discussion of national and federal-level policy. We're now working to further inform and advance that discussion.
Federal Policy Reports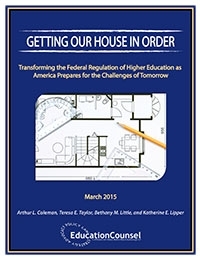 Transforming the Federal Regulation of Higher Education as America Prepares for the Challenges of Tomorrow
Report presents a framework for improving federal postsecondary policy. Assesses the state of regulation today and examines how it should evolve to allow for innovation in the field, support postsecondary providers, and ensure student outcomes.
---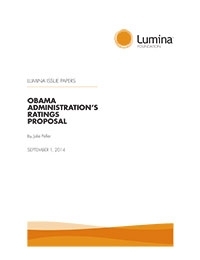 The Obama ratings system is intended to guide federal student aid to the institutions that provide the best value to students. This issue paper by Lumina Strategy Director Julie Peller examines issues of effectiveness of consumer information, public response, and potential measures of quality in the proposed rating system.
---
LATEST GRANTS
By Strategy: Advance Federal Policy
LATEST NEWS & EVENTS
By Strategy: Federal Policy