The turnaround in the Buffalo schools demonstrates why collaboration is key to discussions about successful community-wide efforts to bolster learning and college access.
For years, the schools in the upstate New York community struggled to counter the social and family problems that found their way into the school district's classrooms.
Then "Say Yes to Education" showed up with an offer: If Buffalo could somehow weave the teacher's union, school system, municipal government, business, civic and philanthropic communities into a single unit committed reversing decades of academic stagnation, Say Yes promised to seed a program that would place every qualified student in a college classroom.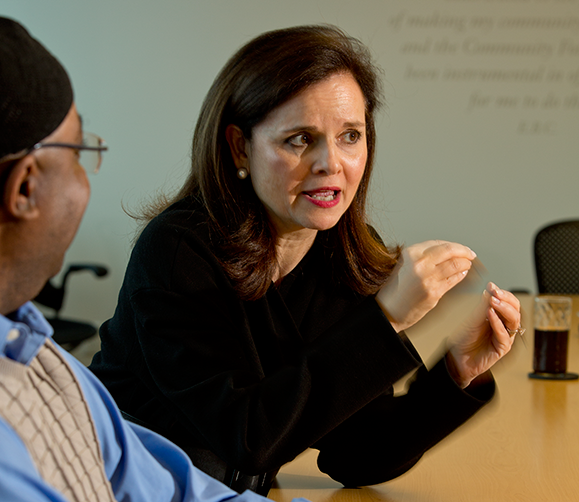 Buffalo delivered, and the city has since seen dropout rates decline as college persistence and some elementary-level test scores have improved.
Collaboration has certainly played a vital role in Buffalo's renaissance, but credit also must go to the leadership of Clotilde Dedecker, president and CEO of the Community Foundation for Greater Buffalo.
"She shared the governance that brought us to the table," says Blythe Merrill, senior vice president of programs for the John R. Oishei Foundation, a key partner in the Say Yes committee that Dedecker assembled.
Other experts in building and maintaining broad-based community initiatives underscore the fundamental importance of strong leadership.
"The people who are good at this are good at not just fixing technical problems; they're addressing how we collectively change our behavior," says Jeff Edmondson, managing director of Strive Together, a Cincinnati-based educational coalition that has expanded into a nationwide network of academic partnerships. "They're showing that everybody needs to think differently what needs to be done to put kids at the center."
Edmondson wryly describes the task of coalition leaders as an exercise in "herding cats." It's an appropriate analogy.
"For these sorts of initiative to work, you need to get buy-in from multiple institutions," explains Marjorie Cohen, principal associate for education at the National League of Cities. "And having a trusted advocate and champion who can bring not just leaders to the table but also convince the worker bees to buy in to what you are doing at multiple levels ― that is crucial."
Accomplishing that objective, Edmondson says, requires a "legislative," highly collaborative approach to leadership, not the "top-down" approach sometimes favored in the corporate world. A good leader must be able to apply a deft touch to redirect institutions — and individuals ― accustomed to setting their own agendas.
Still, leadership styles can vary. In Buffalo, Dedecker has no qualms about taking charge front and center. Her counterpart in California, Sara Lundquist, tends to tread lightly in her capacity as the unofficial head of the Santa Ana Partnership.
When Lundquist is asked to reflect on her direction of the Partnership, she instinctively defers to others ― to the work done by teachers and administrators and to the financial and public support provided by the business community.
The same can be said for John Burnett, the quiet hand guiding the Community Education Coalition in Columbus, Ind.
Will Miller, president of the Wallace Foundation, says many of the Coalition's most significant accomplishments can be traced directly to Burnett's big-picture vision — and to his flexibility.
"He is not in love with his strategies to the exclusion of others," explains Miller, a Columbus native and a co-founder of the Coalition.
Above all, Edmondson says, the successful leader is one who keeps the partnership focused on the facts that move the mission: the student attainment data that define the problem and point the partnership toward solutions.
"This is a whole new way of thinking," Edmondson insists. "The cat herders cannot be effective unless a core group of people at the CEO level are humble enough to say there are no single programmatic solutions. It's about putting data at the center of the discussion."
---
A Lesson in Leadership
Strong leadership is a critical component in any city's effort to improve education outcomes and increase college attainment among its residents. Experts cite several qualities that mark an effective local leader, including:
Patience
It takes time and effort to foster true collaboration among multiple entities. A smart leader embraces the long haul.
An innovative spirit
Jeff Edmondson, managing director of Strive Together, says a good leader values creativity and urges partners to "think differently about what needs to be done to put (students) at the center."
An evidence-based approach
Decisions and actions must address actual facts — as reflected in the student attainment data from the partnership's service area. A good leader always puts data "at the center of the discussion," Edmondson says.
Flexibility
Sharing power is vital. As Wallace Foundation President Will Miller says: A good leader can't be "in love with his (own) strategies to the exclusion of others."