Lisa Matthews started college in 1985 as a 17-year-old freshman at Winston-Salem State University, a historically Black institution in North Carolina. One day during her first semester, she felt sick to her stomach. The pain didn't ease the next day or the day after that. Finally, she went to the campus infirmary, where the nurse told her she either had a serious medical condition or she was pregnant. It turned out to be the latter, and at that moment, the trajectory of her life radically changed.
Matthews withdrew from her classes, returned home to Charlotte, and gave birth to a son. For the next two decades, life was good. She married and had four more sons. With her husband's success in business, the family lived in a nice house, drove expensive cars, and sent their sons to private schools, where they excelled in sports. She wore the best clothes and drove a Corvette. But Matthews still felt something was missing.
"I never felt like I measured up to my friends and my family members who had a degree," she said.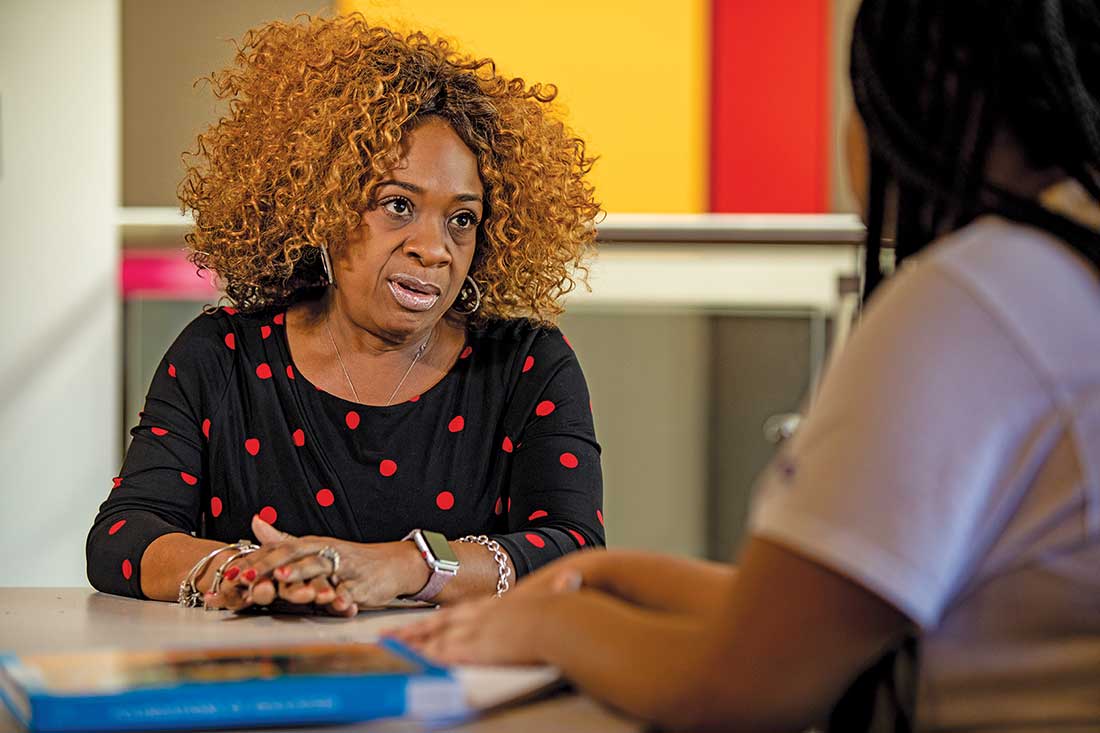 Then, in 2012, she and her husband separated, and Matthews said, "My world fell upside down." Until then, her focus had been exclusively on her family. "I had literally consumed my life with my children, (my husband), his business, his dreams, everything," she said. Finances became an issue. Two of her sons were in college, and the other sons' extracurricular activities were demanding more time and just as much money.
In 2014, nearly three decades after her own freshman experience, Matthews returned to Winston-Salem State for the first time. She was dropping off her third son at the campus, where he was enrolled and slated to play football. Someone on the football staff who had learned that Matthews herself had unfinished business at the university began using her son's missing paperwork as an excuse to get her re-enrolled. Every few days, Matthews would get a call about another form needing her signature, and every time she arrived to tie up the administrative ends, someone would say, "You need to go back to school," and "All you have to do is sign on the dotted line." Behind the scenes, the football staff worked with others on campus to take care of the paperwork. Call it a college-going conspiracy.
It worked. Matthews did re-enroll in the fall of 2014. But she didn't tell her son at first; she didn't want Mom on campus to hamper his college experience. Each morning, she shuttled her youngest son to his Charlotte high school, then drove the hour and a half to Winston-Salem and back again. After just two weeks of this schedule, Matthews was ready to give up. "I said, 'I can't do this.' I was looking for someplace to stay, looking at the mileage on my car. I started thinking: 'I haven't told anybody I'm in school, so I can quit,'" she said. She was still pondering that option, when she looked up and realized she had completed the whole semester—and made the dean's list. "I said, 'What have I done? Now I have to come back in January.'"
She did come back in January. And in August, and the January after that. With her family responsibilities, it wasn't easy. Matthews, enrolled as a full-time student, worked weekends for a transportation company and weekdays at a work-study job. She did school assignments at night and during breaks at work, never missing her sons' high school and college football games.
Throughout her journey as a student parent, Matthews benefited from the supportive environment of a singular American institution. Historically Black Colleges and Universities (HBCUs) have a long tradition of going the extra mile to help students, including those with children. As with other minority-serving institutions, HBCUs enroll disproportionately high numbers of people who face barriers to success in higher education. Those obstacles include poverty, underfunded K-12 schools, and environmental harms that disrupt learning. HBCU students are also more likely to be caring for dependents.
HBCUs don't generally have specific services or designated programs for student parents. That's partly because, in many cases, the institutions lack the resources to do so. Because of the same systemic racism that hampers Black communities, Black institutions have been persistently underfunded by states and the federal government. The endowments of even the wealthiest HBCUs are 70 percent lower than those of the average non-HBCU, which means they are less able to provide needed aid to their students.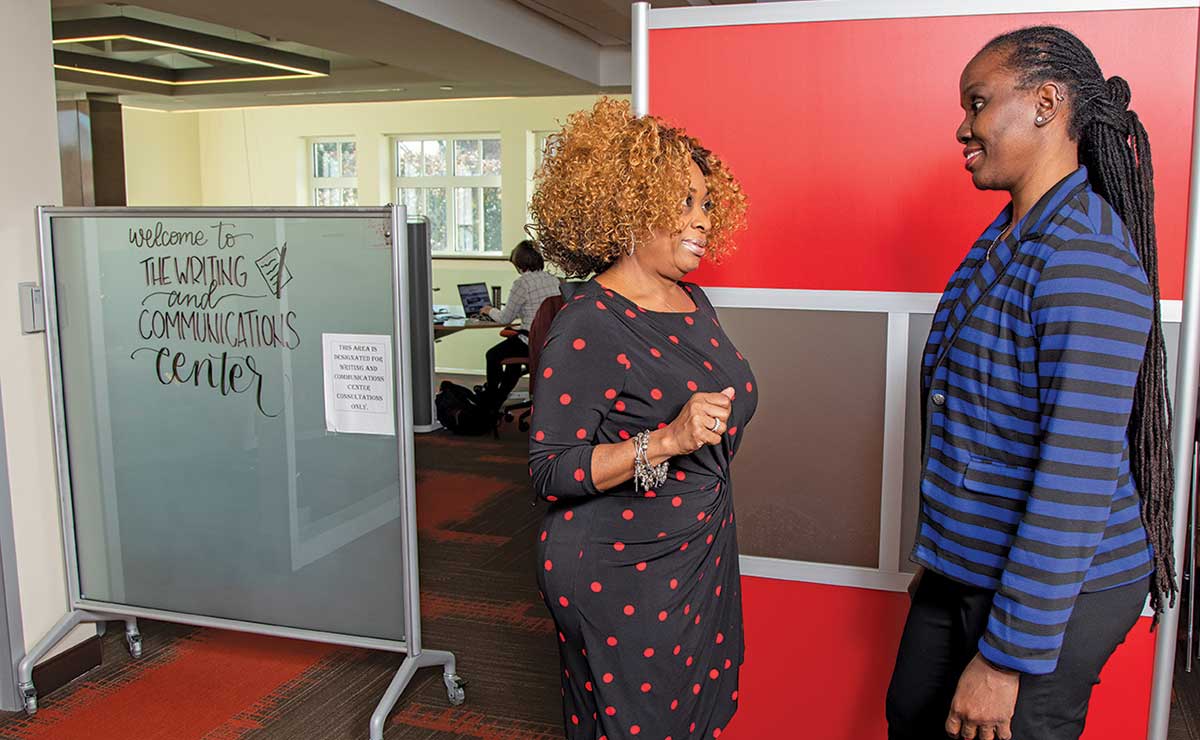 Yet HBCUs have an impressive record of doing more with less. Black graduates of HBCUs report significantly higher levels of financial well-being, "purpose well-being" (liking what they do, being motivated to achieve their goals), and social well-being than do Black graduates of non-HBCUs. According to a 2017 report by Education Trust, they also do a better job graduating Black students than do other institutions when all other factors are controlled for.
Those most familiar with HBCUs say students thrive at these institutions because they never feel alone. They know that when someone is cheering them on and expecting them to succeed, it makes a difference. The institutions offer a nurturing culture that embraces the whole student and values the student's role in his or her own family and in the larger HBCU family.
HBCUs are often tight-knit communities that, even across different campuses, operate with a marked level of familiarity. "In many cases, my relationships were stronger with the cafeteria workers, the grounds staff, the people in the mail room than they were with faculty members," said Ala'Torya V. Cranford, first-year experience coordinator and an academic advisor at Fort Valley State University, an HBCU in central Georgia. "People automatically think 'age' when they think of nontraditional (students), but you have age, you have people with whole families, people who are transitioning, moving…"
According to Georgette Crawford-Crooks, Winston-Salem State's assistant dean of student interventions, students become part of the family—the "RAMily," as it's called on campus, in a nod to the school's mascot—the moment they arrive. And they remain so, long after graduation.
"Think about having a brother or sister, seeing a student needing assistance even outside of the classroom … You (do) all the things that you would do with your own family … I have one daughter by birth, but everyone else, they're my child." That sense of family is what sets the HBCU homecoming tradition apart from those of other schools: Students, alumni, and even outside community members are embraced as family coming home for the weekend.
Crawford-Crooks said she attended a predominantly white school and has worked at others like it, and sees the difference in care given to students at an HBCU.
"I leave the office, and I'm like, 'I have all this that I need to do still,'" she said. "'I need to call this student, check on that one.' That's how important each student is to me personally."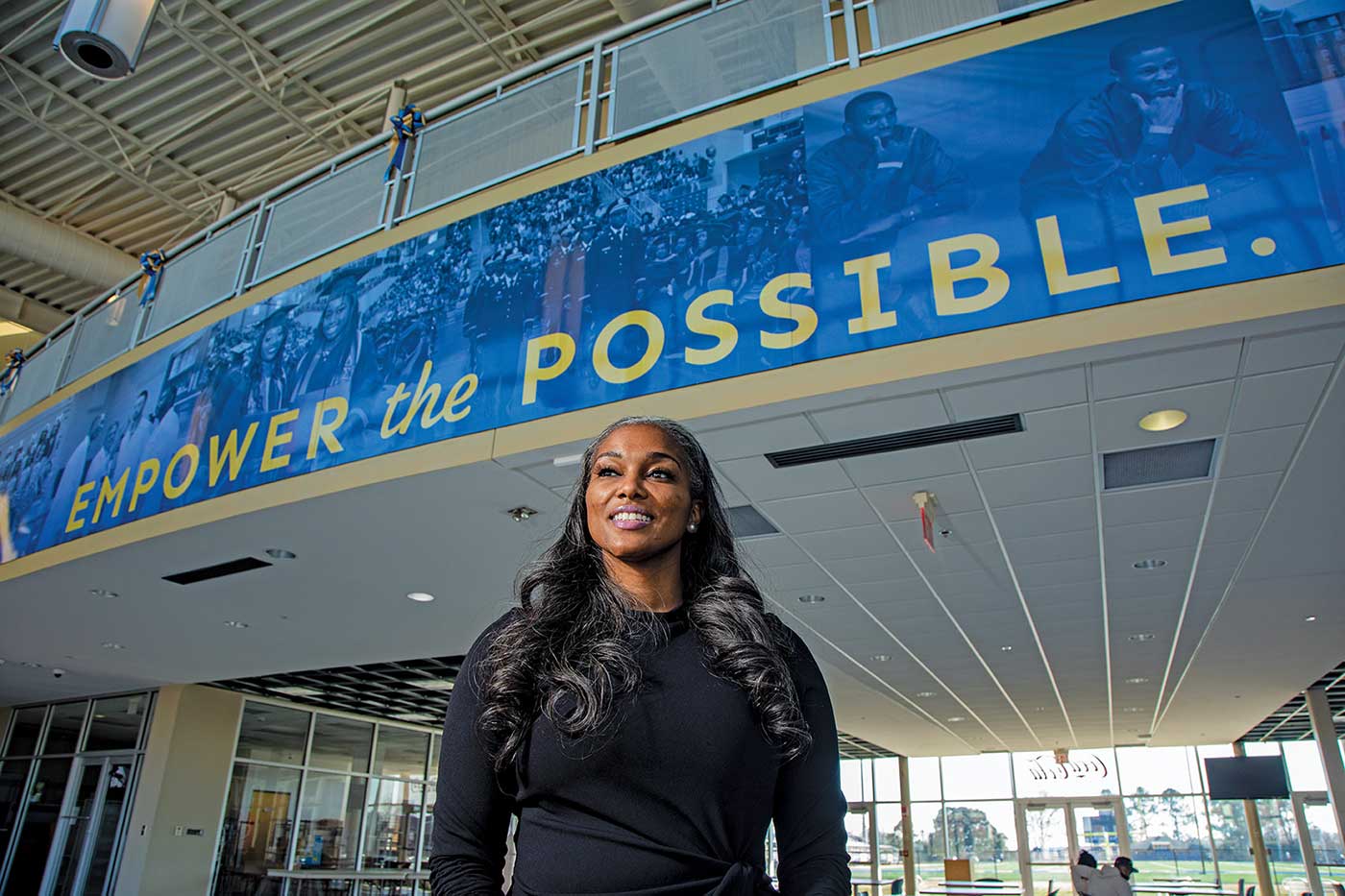 That kind of caring culture kept Lisa Matthews going through her years at Winston-Salem State despite the competing demands on her energy and time. While her professors held her to high standards, they gave her all the support she needed to meet those standards. When she didn't have any money, they helped her find resources. When she didn't have a computer, they loaned her one. In 2018, Matthews graduated on time, summa cum laude, with a bachelor's degree in psychology. Now 53, she plans to pursue her master's degree at Winston-Salem State and is working as a student success coach, giving back to the university community that invested so much in her.
Crystal A. deGregory, a research fellow at Middle Tennessee State University and an expert on the history and culture of HBCUs, points to a historic foundation for HBCUs' success. It goes back to the institutions' founding mission: to educate Black citizens who were shut out of white colleges and universities. "Historically, we have had to be our brothers' and sisters' keepers, and that reality is also very true (today). It's no coincidence. It's not serendipitous. It's because we care. And that care shows up as support for our student populations (that) stretches beyond the classroom, beyond the campus."
These connections helped smooth a somewhat bumpy higher educational path for Sanataty Nottingham,
a 30-year-old junior at Fort Valley State. She had initially enrolled at Paine College, a small private HBCU in Augusta, Ga., where her grandfather had served as interim president and where Ala'Torya Cranford had once been a student. In 2020 Nottingham transferred to Fort Valley State, where her grandfather had also served as an administrator and where Cranford now worked. Nottingham's grandfather reached out to Cranford about his granddaughter. "Take care of her," Cranford remembers him saying.
"It's just all based on relationships," said Cranford, explaining how members of the HBCU community intuitively care for each other. "I think we just adopt students as our own, because we want them to grow in totality—academically, personally, and professionally." Nottingham agreed, saying: "I call a lot of the staff my aunts, because my grandparents also adopted a lot of them to come stay with them like their own kids."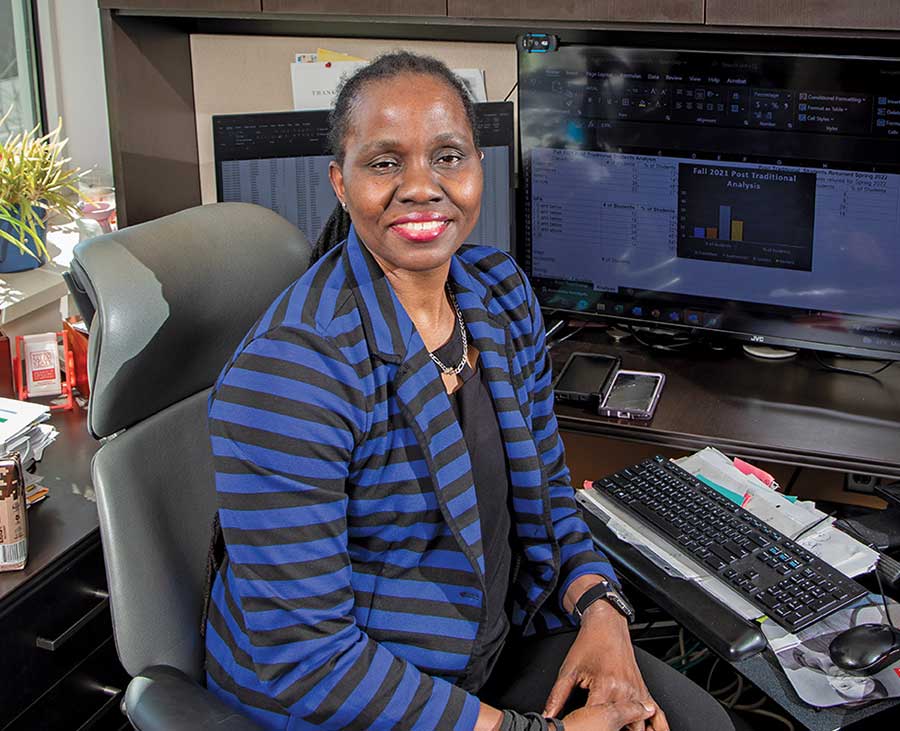 In 2013, Nottingham gave birth to a son. Then a full-time biology major at Fort Valley, she left school to work and care for her child. But in 2017, when her younger brother graduated from college, she felt compelled to finish her degree.
With her son now in preschool, Nottingham resumed classes, still hoping to finish her degree in biology. When she needed to take her son with her to campus, the staff was welcoming. "There were times when I didn't have a babysitter and I had to go to class, and I was just like, 'Well, baby, we're going to school,'" Nottingham said. Cranford and others encouraged Nottingham to participate in college life—and to bring her son along to basketball games and other campus events. "The staff fell in love with him," she said.
But when her car broke down in 2018, Nottingham suddenly had no way to get to school and was forced to drop out again. She worked remotely, helping process claims for a large insurance company, to support herself and her son. And at the end of 2020, she became pregnant again.
Yet Nottingham never lost sight of her goal to earn her degree. Now a mother of two, she returned to Fort Valley State for the spring 2022 semester. This time she's taking classes online so she can care for her children—and she's now a psychology major, since biology courses aren't offered online.
Nottingham concedes she's not yet sure what she wants to do with her psychology degree, but she does plan on pursuing a master's degree in the subject after she graduates this fall. Despite the change in direction, Nottingham says she is motivated to continue her family's legacy of higher education. Rather than holding her back, her children have provided another push. "I brought another child into this world," she said. "I want to do it for them, just to show them that if I can do it, they can, too."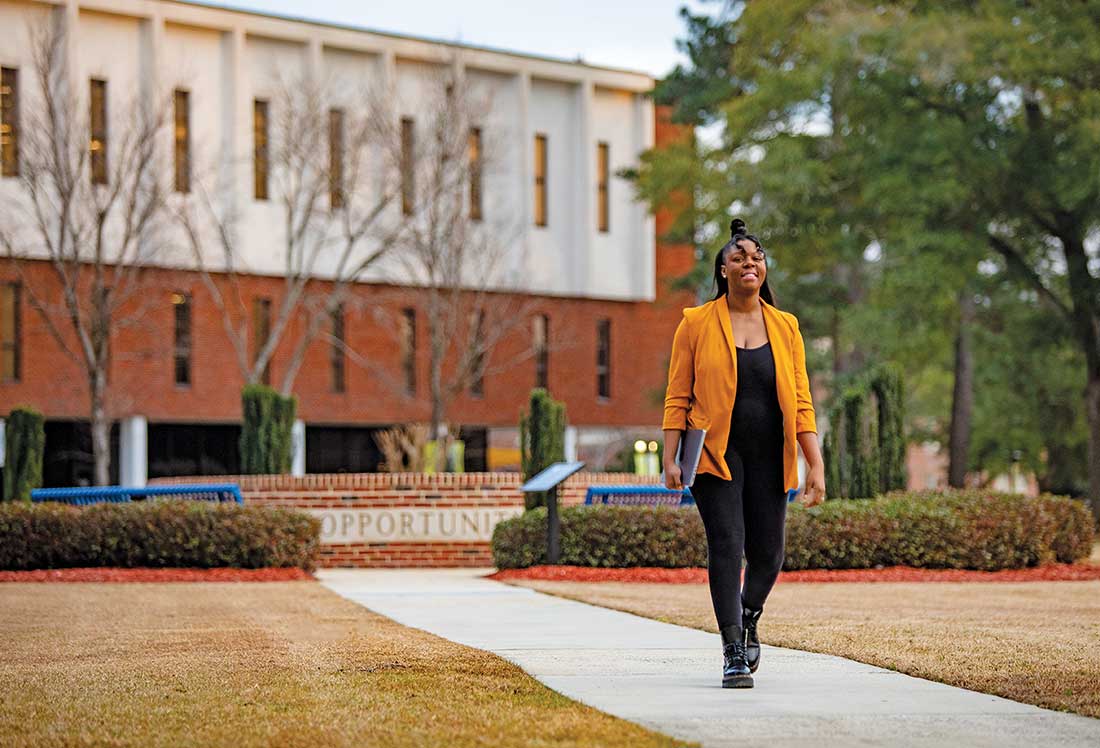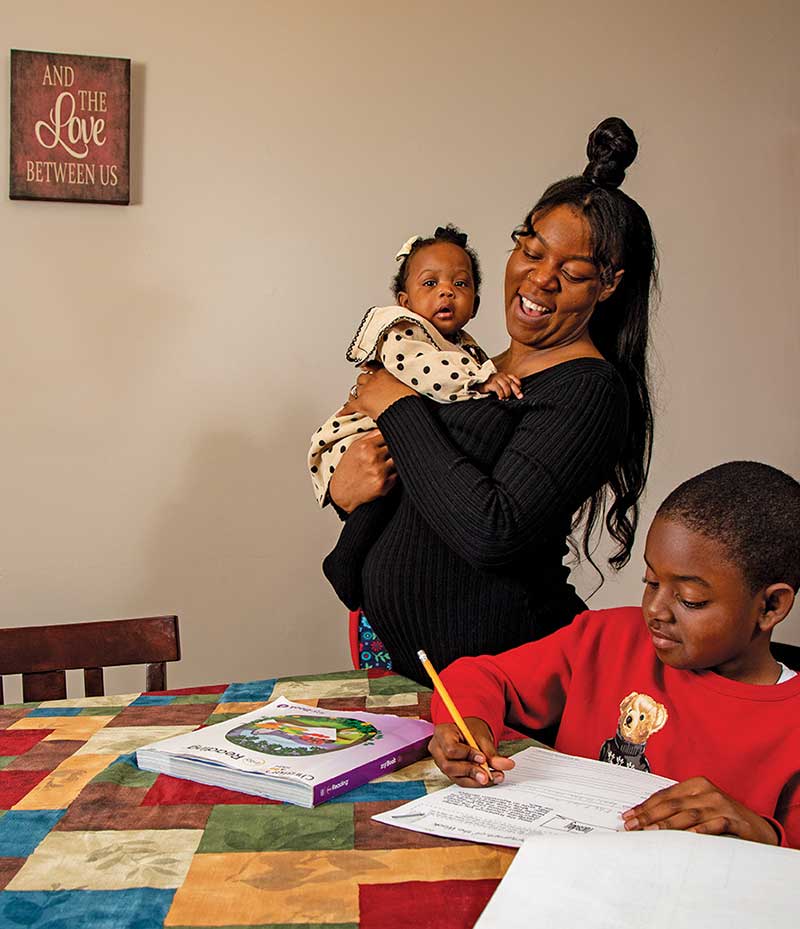 This inspirational, cross-generational commitment to education is another strand in the DNA of HBCUs—one that is often overlooked. And deGregory says HBCUs also get too little credit for "pioneering the building of emotional capacity, and support and intelligence" that is only now seen as critical in higher education as a whole. Many of today's so-called best practices—including living-learning communities, child-welcoming environments, and additional support for adult learners—were part of HBCU culture when the first students enrolled during Reconstruction. It's a family environment that extends back to the communal nature of Black people in America—one forged out of necessity in the midst of the worst circumstances.
Now, as the Black community continues to battle systemic racism while facing a global pandemic that disproportionately harms their families, deGregory insists that these institutions, their students and their constituents band together.
"In a world where Black bodies and souls are constantly under duress, we don't have the luxury of being individualistic," she said. "As a matter of sheer survival, we have to be communal—and that also just happens to be the best holistic approach" to higher education. But there's no "secret sauce" that can be bottled and exported to other institutions, deGregory said. "There's a lot of pressure … to hand over the recipe, disclose the secret, give the code so that they can replicate what it is that we do. But there is a difference between loving Black ingenuity, Black music, Black food, Black dance—and actually loving Black people. And when (other) institutions love Black people, then and only then should we entertain conversations which try to convey with preciseness the specialness of Black love for Black people."