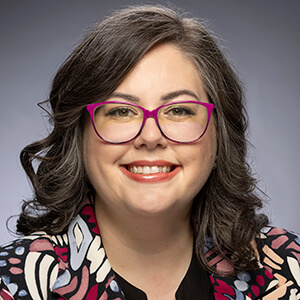 Katy Launius, Ph.D. is a strategy officer for student success at Lumina Foundation, an independent, private foundation in Indianapolis that is committed to making opportunities for learning beyond high school available to all. She helps to shape and drive Lumina's community college success strategy.
Launius previously worked for Dallas College, where she worked in leadership roles within their student affairs department. Most recently, she was the inaugural associate dean of support programs, where she led the development of a new support programs unit across seven campuses. Throughout her time at Dallas College, she designed and implemented academic and holistic support programs, emphasizing equitably serving and centering marginalized students. Her list of roles and services along these lines is expansive, both at Dallas College and in her prior campus positions.
Katy is also an avid learner and policy thinker. She received her doctorate in educational leadership and policy studies from the University of Texas at Arlington and serves as the public policy liaison for the National Association for Student Personnel Administrator's Community College Division Board.