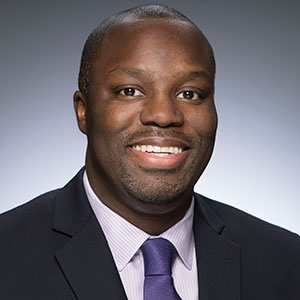 Wayne Taliaferro is the director for student success at Lumina Foundation, an independent, private foundation in Indianapolis that is committed to making opportunities for learning beyond high school available to all. In that role, he works to support the creation of a system in which student success and equitable outcomes are scaled up significantly, particularly at community colleges as the start of a success trajectory. He previously supported a portfolio at the foundation focused on comprehensive affordability for today's students.
Prior to joining Lumina, Wayne worked as a senior policy analyst in the Center for Postsecondary and Economic Success at the Center for Law and Social Policy (CLASP). While at CLASP, he helped drive federal and state policy advocacy on issues of postsecondary affordability, workforce development, and economic opportunity. He also helped develop and steer new efforts across the organization to drive a criminal justice reform agenda that included access to and investments in postsecondary education.
Prior to working at CLASP, he worked as a research analyst at the University of Maryland College Park's Office of Institutional Research, where his work informed enrollment, budget, and planning decisions at the college, as well as reporting and special projects for institutional and systemwide audiences. He also served as a research consultant for Collegiate Directions, Inc., a nonprofit college access organization serving students in Montgomery County, Maryland, and Washington, DC. There, he worked to strengthen their capacity to provide direct support to students through streamlined data collection and use.
Earlier in his career, he worked in K-12 education as a coordinator and analyst at D.C. Public Schools, and as a graduate intern in the Office of Research, Planning, and Accountability at Providence Public Schools.
Wayne holds a bachelor's degree from Morehouse College and a master's in urban education policy from Brown University.