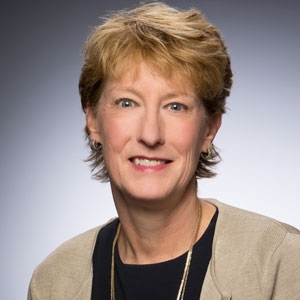 CHIEF OPERATING OFFICER, EXECUTIVE VICE PRESIDENT AND GENERAL COUNSEL
Holiday Hart McKiernan
Holiday Hart McKiernan serves as chief operating officer, executive vice president and general counsel for Lumina Foundation. McKiernan directs the Foundation's legal affairs and also leads Lumina's exploration of the Bologna Process and the implications of that reform effort on American higher education. She speaks frequently on legal, governance and policy issues concerning nonprofit organizations and higher education institutions. McKiernan began her career practicing law concentrating on nonprofit and tax-exempt organizations. Prior to joining Lumina in 2003, she was executive director and counsel for Alpha Chi Omega and advised universities on approaches to high-risk student behavior.
Ms. McKiernan has co-authored several journal articles, including Making the Implicit Explicit: Demonstrating the Value Added of Higher Education by a Qualifications Framework, The Journal of College and University Law; "The Changing Landscape of Higher Education: An Analysis of How National Change Might be Brought About in American Higher Education Compared with the Bologna Signatory States," Education and the Law; and "Trans-Atlantic Ping-Pong and the Bologna Process," The European University Association Bologna Handbook.
She serves on the Board of Directors of ADI, Inc., a corporation that holds the charters for two Indianapolis charter schools, the Association of American Colleges and Universities, the Higher Education Resource Services, Inc., Antioch University Board of Governors, and the International Advisory Board for the Stetson University College of Law Center for Excellence in Higher Education Law and Policy.
McKiernan is a Phi Beta Kappa and magna cum laude graduate of DePauw University in Greencastle, Ind., and earned her law degree, cum laude, from Indiana University.